Welcome to Waters Edge
Log Cabin Lake Home, TN Mountains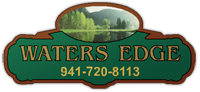 Watauga Lake is truly one of the most beautiful and pristine mountain lakes in the United States. Located just across the Western North Carolina state line in Eastern Tennessee, it offers a perfect getaway for those looking for a mountain lake getaway – such as fishing, boating, sailing, canoeing, kayaking, etc.
We call our beautiful Watauga Lake Cabin rental "Waters Edge" for a good reason. Our 4BR, 2.5+ Bath Watauga Lake Vacation Rental offers water's edge convenience! Walk right out onto our dock and enjoy all that Watauga Lake has to offer. A fire ring by the dock on the lake and a gas fireplace inside this log cabin in the mountains, will warm you on chilly evenings after touring the lake or nearby Appalachian Trail. Hiking, water skiing, and even snow skiing are available depending on the season.
Spring and Summer in the mountains are unmatched and waking up next to the lake is one of the most relaxing and enjoyable vacations you can have. Autumn is awe-inspiring on Watauga Lake with brilliant hues of reds, oranges, yellows and green mountains rising right up from the crystal clear waters of the lake. Watauga Lake is listed as the third cleanest lake in the United States!
Our Tennessee Lake Vacation Home offers all of the luxury conveniences that you could want. The Jacuzzi tub in the Master Bath of this vacation home with a scenic view of the night sky will help warm you and put you in the vacation mood, as well.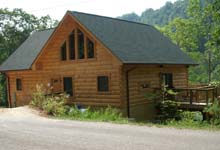 Basic Information:
4 Bedrooms
2.5+ Baths
Sleeps 12
Wide Screen TVs, Wireless Internet, Jacuzzi, See more amenities >>
It is so quiet outside this lake cabin rental that you can hear all of the sounds of nature and the wildlife that thrives around the lake.
Waters Edge is a 4 bedroom, 2.5+ bath waterfront vacation log cabin rental with a scenic view of the mountains and Watauga Lake. This lake cabin sleeps 12 (8 in the 4 bedrooms and 4 more on the 2 sleeper sofas). If you have to stay in touch with the office, don't fret. Hook up to the wireless network high speed internet in this rental home, plus make unlimited long distance calls within the continental U.S. while you enjoy scenic views of the mountains.
DON'T DELAY, CALL US TODAY TO RESERVE THIS LOG CABIN RENTAL ON THE LAKE IN THE MOUNTAINS! YOU'LL BE GLAD YOU DID!!!
We invite you to VIEW OUR CABIN, RATES and MORE INFORMATION ABOUT WATAUGA LAKE, or MAKE RESERVATIONS...
More Information
If you need information about any of our services, please feel free to use our contact form, send us an e-mail to info@lakecabin4you.com, or give us a call at 941-720-8113 or 941-713-5303.